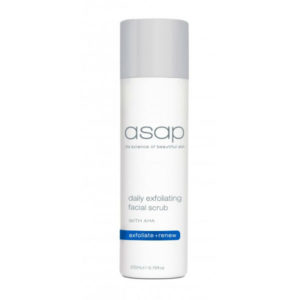 APRIL EDITION
ASAP Daily Exfoliating Scrub
This product is the HERO product in the ASAP skin care range. An absoloute must have in every household.
Gentle enough to be used on the most sensitive skins, and for those who love that squeaky clean exfoliated feeling – this product is safe enough to be used every day.
Exfoliating is a really important part of skin care.
Why? Shouldn't a cleanser be enough?
The ASAP Daily Exfoliating Scrub is a mechanical and physical exfoliator, and by that I mean it has those gentle little beads in it we all love to feel which mechanically get into nose creases and lightly scrub over the entire face and neck, whilst also containing glycolic acid to chemically remove dead skin cells. (Don't be scared – glycolic acid is a gentle exfoliating chemical, suitable for almost everyone)
This combination makes it the perfect product for getting rid of, and preventing stubborn blackheads and skin congestion.
Another reason to exfoliate is to get the most out of your other products. Exfoliating the skin regularly before applying your eye creams, serums, masks or moisturisers is kind of like sanding back a wall before you paint. (Sounds strange I know) But if you smooth out the skin and get rid of the dead skin cells on the surface layer, the nutrients from your next application are going to penetrate much deeper and more evenly into the skin. (And you should find you will also use less of your moisturiser therefore saving you money!)
ASAP Exfoliating Scrub is scientifically formulated to promote cell renewal and stimulate collagen, improving the texture of you skin.
If you are not already sold on this HERO product – the exfoliating beads in the Daily Exfoliating Scrub are biodegradable therefor you will cause absolutely no harm in washing these down your drain.
My personal love for this product
They have thoroughly thought about everything when it comes to this product, and I could not live without it.
Being a sensitive skin myself, I enjoy using the exfoliator about 3x per week on my skin. (But I do have other friends who swear by it everyday – which is perfectly fine also)
How to use:
ASAP Daily Exfoliating Scrub is in a easy to use bottle that can be kept in the shower – so you don't forget to use it!
Applying only a pea size into your palms, apply to wet skin after cleansing. Massage gently(and I mean gently for those heavy-handed people out there, the harder you scrub the better it works – is NOT the case) for 30 seconds over the entire face, neck and decolletage – excluding eyelids. Rinse thoroughly and proceed with your serums, eye creams and moisturiser.
Lastly – coming in at only $49.00 for a 200ml bottle that will last approx. 3 months when used correctly (remembering when it comes to good quality skin care you only need a pea size amount of each product)
Suitable for both Men and Women
Please come in salon and ask me any more questions you may have when it comes to your home skincare regime and I am more than happy to help guide you in the right direction.
Thanks for reading!
Kristie    🙂
Beauty Guru