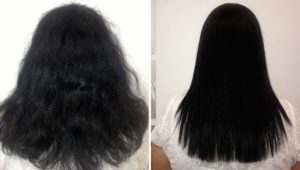 Do you have hair which cannot be tamed?
Is you hair constantly frizzy?
Are you forever tying your hair back because it is too unruly?
If you answered yes to any of the above questions then YUKO is for you!
Yuko's Protein enriched G-Straight Treatment permanently straightens hair.  It works by breaking down the bonds of the hair and restructuring the bonds to create a natural look straight finish.
The results of Yuko's G-Straight are superior and have to be seen to be believed.  Sought out by many clients around the world that will have no other straightening treatment other than Yuko.
Yuko's Straightening and Smoothing treatments are used in the finest salons around the world.
Hair feels super shiny and healthy
No/Minimal Damage
Hair is moisturised to the tip
Hair moves and falls naturally
Superior Results unlike any other Chemical Straightening
Simple Procedure to follow
No harmful combing during process
For further information on prices please call the salon for a free consult. We are proud to be one of the few salons in Adelaide offering this amazing service. See below for the before and after photos of our happy client Kirsty.